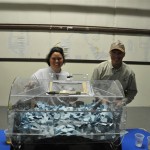 CARSON VALLEY CHUKAR CLUB
Join us for our 32st Fundraiser!
March 3, 2018 – Fundraiser Event
Tickets are $30 each
It was 32 years ago when our non-profit organization decided to raise money to support wildlife habitat projects in the State of Nevada; since that time, thousands of dollars have been raised to support worthwhile programs to enhance our wildlife and opportunities for outdoor hunters and wildlife enthusiasts.
The following projects were funded by the CVCC in 2017:
Columbian Sharp-tailed Grouse restoration to Northeastern Nevada
Maison T Oritz Outdoor Skill Camp
Carson Valley Ducks Unlimited Youth Day
Mountain Quail/Ruff Grouse research and restoration
Supporting the Youth Fishing Derby's/Hunter Safety
Great Sage Grouse Monitoring
Reseeding projects
Guzzler restoration and repair
Reserving funds for NDOW's 2018 projects for upland game birds
After this year's fundraiser, the board of directors will again approve other great projects.  As you probably know, our board members are volunteers and all monies raised are spent directly on wildlife projects.
This years event will be held at the Douglas County Fairgrounds beginning at 5:00 p.m. Enjoy an exceptional meal consisting of tri-tip, homemade beans, and salad. The raffle and auction items will include rifles, shotguns, fishing equipment, wildlife artwork, and much more. Cost $30.00
For tickets, click the "Pay Now" button above. For additional information call Todd Wilcks at 775-690-3853, or Ron Perini at 775-783-0602. We also must mention that all participants must be a minimum of 16 years of age and smoking is prohibited inside the pavilion due to the Nevada Clean Air Act. We also do not allow anyone bringing in alcohol to our event; alcohol can be purchased inside the pavilion.
This year, there will be more AVAILABLE seats and tables and there will NOT be any reserved tables.
Thank you for your continued support; see you on March 3rd!